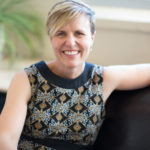 I'm Julie Gold. I'm a person with many of the same challenges you face, balancing career and family, discovering I'm enough as I am, and still striving to grow and evolve. I'm on my own journey to continuously evolve my Purposeful Mindset, and I'd love to join you on your journey.
I am a National Board-Certified Health and Wellness Coach and a Certified Professional Health and Wellness Coach with more than 4 years of experience coaching. I am constantly learning from industry experts and more importantly from my amazing clients. I've worked with dozens of clients from all walks of life, and different stages of life and I love my job. I love connecting with people and seeing them take leaps and bounds they never thought were possible. I love being that person in their life who always believes in them, always sees their potential and always walks along side them on their journey.
In addition to being a coach, I'm a mom to identical twin girls and am fortunate to have an amazingly supportive and loving husband. We have an enormous dog named Charlie and love living in Fort Collins Colorado. Before being a coach, I worked in the software industry for 20 years.
I've also been on what I call my wellness journey. In 2001, I was in my late 20s and I was 60 pounds overweight and totally out of shape. Over the next 8 months I lost all that extra weight and rediscovered my inner athlete. Since then I've learned to navigate the challenges of being healthy, developing a healthy body image and figuring out how to live and enjoy life with still honoring my physical body. The journey continues.